The Dynamic DNS service at IISAS provides a unified, federation-wide Dynamic DNS support for virtual machines in EGI Cloud infrastructure. Users can register their chosen meaningful and memorable DNS host names in given domains (e.g. my-server.vo.fedcloud.eu) and assign to public IPs of their servers.
Reasons for using Dynamic DNS service:
* Simple usage: Users should be able to register a hostname and assign it to a server (desktop, local server, virtual machine in Cloud) in two minutes. See the demonstration video in the FedCloud YouTube channel for a proof.
* Independent: do not require additional software installation, nor additional support from Cloud providers or site administrators.
* Universal: hostnames could be applied for services/VMs deployed anywhere, including local servers, private Clouds, academic Clouds or commercial Clouds. That feature is very useful for service migration from local servers to Cloud or from a cloud provider to another.
* User-friendly: end-users can access services or virtual machines deployed in Clouds with pre-registered, meaningful and memorable hostnames instead of IP addresses.
* Security and privacy: with proper hostnames users are allowed to get valid SSL certificates for the services deployed in the Cloud.
The Dynamic DNS service is available at https://nsupdate.fedcloud.eu/ where users can login using their EGI Check-in credentials. For doing so, click on the Login link (top left) and then click on the egi button.
A new Dynamic DNS service for Academia is available at https://edudns.services.fedcloud.eu/ where students and staff members of universities can login via eduTEAMS accounts.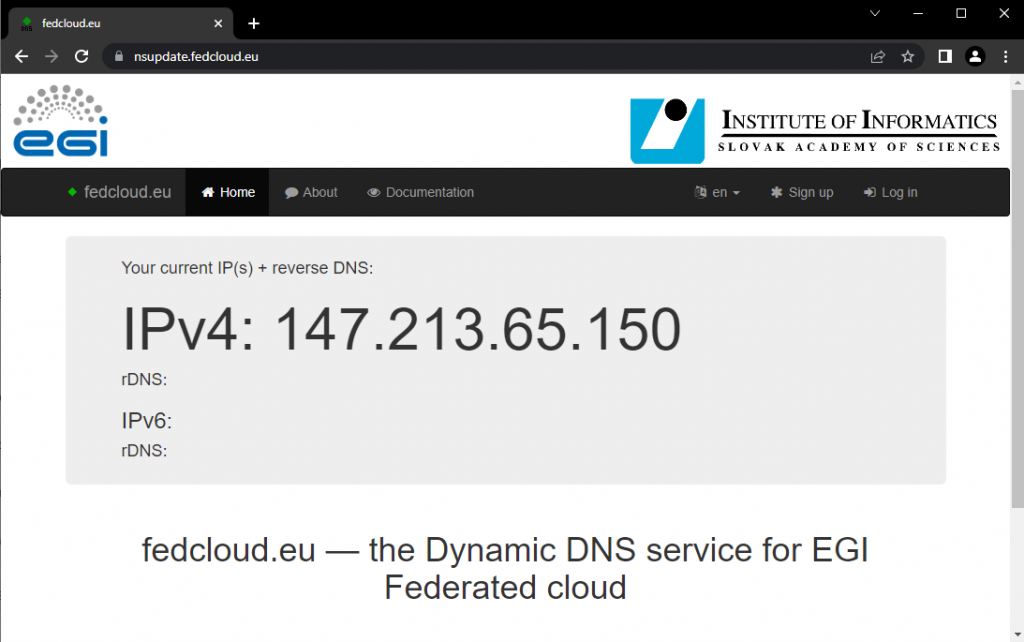 See a very short demonstration video (<4 minutes) in the FedCloud YouTube channel for using Dynamic DNS service. The full documentation of the Dynamic DNS service is available at EGI documentation website.